Michael Jacoby Brown provides customized training and coaching designed to meet each organization's or individual's needs. Brown's training and coaching style is highly interactive. He uses a wide variety of training methods, including personal reflection and writing, role plays, small group work, video, participant presentations, storytelling, and mutual accountability contracts. He recognizes the variety of adult learning styles and allows participants to use their strengths and try on new ideas and skills for maximum impact, learning, and change.
After working with Brown, organizations are able to achieve their goals more quickly. Participants leave the workshops with new ideas for how to involve others in fulfilling their organization's mission. Leaders who have received Brown's training and coaching are able to apply their listening skills to other internal challenges and needs. As a result, staffers feel motivated to do their best work and morale improves. In many cases, organizations build stronger ties with the community and increase good will and visibility.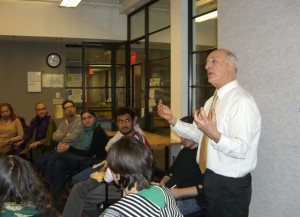 Listening:

We value listening to the stories of the organization's members and leaders, and helping them understand how their stories motivate them and the organization.

Learning:

We value examining our theories of effectiveness, reflecting and learning from each other, our victories, mistakes and experience.

Community:

We value the development of community and caring for each other within the organization. We believe groups can both meet their organizational needs and also serve their members. Groups can offer the sense of community that so many seek.

Organizations are needed for justice:

Although individual leaders play an important role, we need ongoing, powerful organizations to adequately represent the needs and aspirations of people without money and power.

Those closest to the problem are the experts:

Those closest to the problem are the experts in solving any problem and they need to be involved in planning and implementing the solutions to the problems they face.
A Sampling of Our Workshops
Conversations to Recruit and Motivate
What could you achieve if you could recruit and motivate others to get involved with your organization? This workshop shows you how to align people's interests with your organization's mission. Rather than traditional "selling by telling," we train you how to listen to understand the deeply held interests of those you want to involve and motivate. We practice "one on one" conversations to figure out how to tell your own story and hear where other people's interests and those of the organization overlap.
Leadership Development
How do you not only recruit people to your organization, but once they are there, keep them active and get them to take on greater responsibility? This workshop shows you how to design a specific "leadership plan" for someone in your organization, so that less of the work and responsibility fall on you or the "same few people" over and over again. We train you how to create "next steps for leadership"–a plan that is practical, specific and measureable.
The Role of the Organizer in Social Change Organizations
How does organizing differ from service, education, mobilizing, advocacy or other methods of social change? This workshop teaches you the "iron rule of organizing" and how to make it work for you. Participants learn how to develop the skill, orientation and personal understanding required to become an effective organizer. They will also understand how to integrate service, advocacy and mobilizing into organizing.
How to Develop Campaigns to Solve Community Problems
How do you organize a campaign to win real improvements in peoples' lives? This workshop teaches you how to address problems in the community. We discuss how "issues" differ from "problems." We also cover what criteria to use to pick the right issues. Participants will learn how to research and identify decision makers, and those who influence them, as well as the role of allies and coalition partners.
How to Build an Organization that Represents the Community
How (and why) do you build a diverse organization? How do you include all the parts of the community you want? How to pay attention to culture, turf, food, communication and other elements of building a multi-cultural organization.
Conducting Negotiations and Actions to Win Real Improvements in Peoples/ Lives
How do you conduct a community action? How do you negotiate with and influence people in power? Where does your power come from? This workshop also covers the nitty gritty details of how to hold a community event, including preparation, signage, rehearsals, room and microphone-set-up, demands and evaluation.
How to Facilitate a Great Meeting
How do you run useful, effective meetings that people actually look forward to? This workshop teaches a simple three-step method for facilitating a great meeting. Participants will learn how to set goals, design an agenda, keep to time, accomplish what you want, and use visual tools. We'll also cover how to deal with difficult people and discuss when to hold (or NOT hold) a meeting.